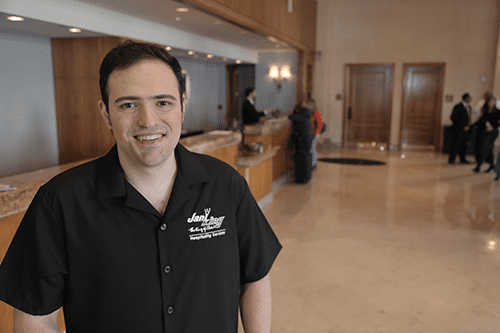 We're guessing that you didn't know your janitor may in fact own the business. That's right. Many business opportunities exist today in the commercial cleaning industry for those willing to roll up their sleeves and build a business of their own. So why exactly is the business owner the one cleaning your office? Because like most businesses, dedicating yourself to every aspect gives you the best shot at success while also giving the customer the best service. Now that you know you've got the right person cleaning your building, what exactly will they clean or, more importantly, what do you need them to clean?
Carpets, floors, trash cans, windows, vents and bathrooms are the usual suspects. But in facilities like hospitals, infection control takes it to a whole other level. In hotels, a great housekeeping program is key to bringing back guests. And for schools, keeping the kids healthy sets them up for success in the classroom.
The amount of work a commercial cleaner will do really depends on the facility and the contract. When a commercial cleaning company visits your location for the first time to provide a cleaning quote, be prepared to answer the following questions:
Have you ever used the company before?
Are you currently using a cleaning service company or individual?
What problems are you most concerned about with your current service?
Do you currently have a signed agreement with that company or individual?
How many cleaning companies have you used in the past three years?
What is your janitorial budget?
Are there Time/Day restrictions?
What time can the cleaning start?
How many days per week do you require cleaning?
When are you looking to change to a new service?
You may likely already know the answers to these questions, but they're important for gathering the right information and getting the best service for your company. Here's some more information to look for.