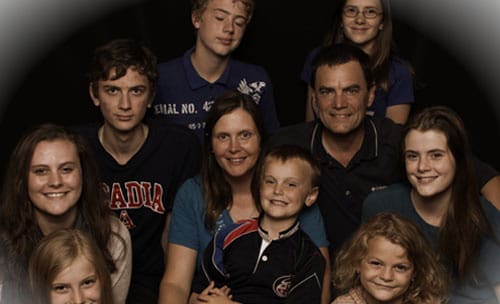 The thought of changing careers can be daunting – especially when the decision means leaving the security of a position in the corporate world and starting your own business. That's exactly what Greg and Lisa McNeil did in 2002 when they started their Jani-King franchise.
We sat down with Greg and Lisa to learn how they're balancing family and a successful business.
Where does your story begin?
We are a traditional family with 8 children. Our oldest is 21 and our youngest is 7. We live on a hobby farm in rural Nova Scotia and enjoy sailing as a family activity. We have been homeschooling for 16 years – our children enter public school in Grade 10. Before we started our Jani-King franchise, Greg was the Food and Beverage Manager for Casino Nova Scotia and Lisa was the Public Information Officer at the Bedford Institute of Oceanography.
What motivated you to invest in a franchise?
We wanted to break free from the corporate world and start something on our own. We had always dabbled in other small business ventures, but nothing that would replace our entire income. A franchise felt like a safe option, as we were afraid of making the big leap, and being guaranteed initial sales as part of our Jani-King package was a strong incentive.
Why did you choose Jani-King?
We learned about Jani-King through a friend from our local church who was involved with the franchise system. He convinced us to learn more about Jani-King.
How has your business changed over the years?
When we started it was just the two of us and over time we grew to a staff of 30 employees. We made a decision years ago to find a balance between the business and our family's needs, so for now it is back to just the two of us. The flexibility is one of the reasons we were attracted to Jani-King, and who knows, as our needs change so will our business goals.
For more stories like Greg and Lisa's follow us on Facebook and Twitter @janikingcanada.