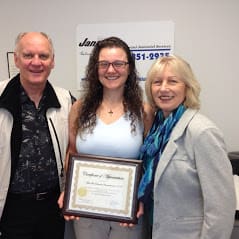 Owning and operating a franchise is often times a family affair. This is certainly the case for mother/daughter team Dabrowka and Mira Siemiatkowska who recently celebrated their 15th year as Jani-King Franchise Owners. The Siemiakowska's operate their Franchise in Kamloops with the help of Jacek, team assistant, husband, and father. Owning their own business has allowed the Siemiakowska's to work as a family, travel, and have time to devote to personal interests like raw food advocacy.
Francine Collette, Office Manager at Jani-King of Southern British Columbia, says "It's truly been a pleasure to work with the Siemiakowskas. I've enjoyed getting to know this tight knit family and watch them grow their business over the years." To honour this impressive achievement, Regional Director Doug Weaver presented Dabrowka and Mira with a special plaque.
Congratulations on your success!