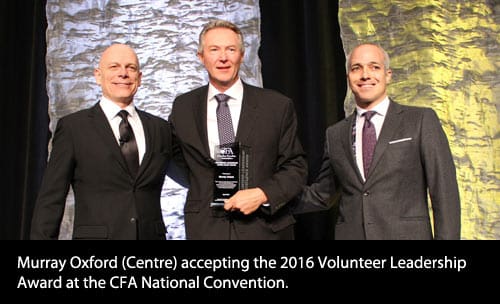 Jani-King Canada President, Murray Oxford, was honoured with the 2016 Volunteer Leadership Excellence Award at this year's CFA National Convention.
Murray stands at the forefront of one of Canada's leading commercial cleaning franchise systems, Jani-King. He began his career in franchising with Jani-King, where he became the first unit franchisee in Nova Scotia. Over the course of 8 years, Murray developed his franchise to become the largest in Canada.
In the early 90's, he set his sights on the Nation's Capital and acquired the Master Franchise rights for the Ottawa region where he focused on building the Jani-King brand and licensing new franchise owners in the region.
In 2001, Murray assumed the position of President and CEO of Jani-King Canada. Today, Jani-King has 12 Canadian regional offices supporting more than 500 franchise owners who provide cleaning services to 4,000 clients every day.
For more than 30 years Murray has dedicated his career to franchising. A long-standing volunteer and board member with the Canadian Franchise Association, Murray is committed to advocacy and acting as an ambassador for franchising.
" This award recognizes entrepreneurial spirit and dedication as volunteers open up new opportunities for the CFA to better service the franchise community. We thank Murray for his dedication and commitment to both the CFA and the franchising industry." – Canadian Franchise Association