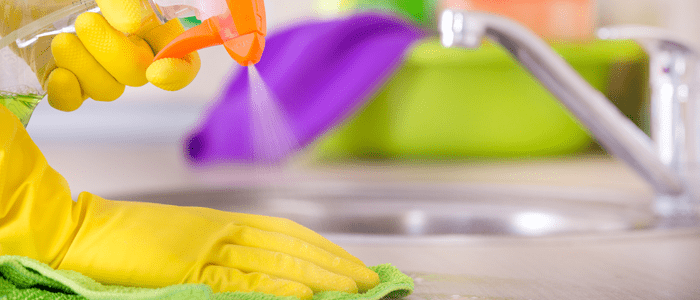 Some of the most common cleaners and tools you use in your office could be having a negative impact on your employees, clientele, and the environment. Let's review some of the most common cleaning supplies to help you in making the sustainable choice.
This cleaner is used almost everywhere in your facility. To wipe down desks, door handles, kitchen areas, etc. If you are using a cleaner that does not indicate it is EcoLogo or enviro-friendly, it is likely not sustainable. Meaning, this cleaner that is being used all throughout our facility could be contributing factor to allergies, or illness in your employees and clientele. Look for a product that indicates it is natural or is EcoLogo certified.
Toilet bowl cleaner might be the harshest of all the cleaners used in your facility. You can search for products that are natural, without compromising the cleaning power. The green cleaning options for your toilet bowl are safer for those breathing them in, and safe for septic tanks as well.
You likely aren't eating off your floors, but depending on your facility, there may be little ones, or pets around – using a EcoLogo or Enviro-friendly certified products for your floor can make all the difference. There are many options that have the same fighting power as those with harsh chemicals and still leave a streak free clean. Also, the containers are recyclable, and are designed to create less waste – win win.
Are you using paper towel for all of your cleaning? If yes, consider switching to microfiber cloths. They not only have unmatched scrubbing power, but can also be washed for many uses. If you have different cleaners in your facility and areas to be cleaned, try buying these in different colours, and creating a colour coded system. This way you aren't mixing cleaners, or wiping someone's desk with the same cloth used to wipe down the toilets – yuck.
There are many types of vacuum cleaners on the market, and they are not all created equal when it comes to sustainability. If you are looking to create the healthiest environment possible for staff and visitors look Vacuum systems equipped with HEPA/ULPA filters that remove and trap particles, helping prevent the spread of airborne contaminants.
Do you sort the waste that is leaving your facility? If not, you should start today! Organizing waste into paper, plastics, organic waste and trash is super easy and can make a huge impact. Purchase a garbage unit that has more than one bin, and be sure to pick up the proper bags for each container depending on what you are sorting out. If you make it as easy as possible for staff and visitors, they will do the right thing and place their trash in the proper bin.
Take a look at your cleaning supplies and ask yourself if you could be making more sustainable choices for your facility and those who work in it, or visit. In most cases you can make a small change that will have a smaller negative impact on the environment without compromising any of your high standards for cleaning.
Want to have an expert review your cleaning practices and implement a sustainable or LEED certified approach?