How the 4-3-2-One Great Summer Plan affects the reopening of your business
Since the start of the COVID-19 pandemic, the Jani-King of Manitoba team has been busy cleaning COVID-19 testing sites and vaccine clinics. We recently learned that Manitoba will begin the process of reopening businesses, restaurants, and lifting health restrictions through the great summer reopening path. An exciting announcement that businesses, services and facilities throughout Winnipeg have been waiting for.
As Manitoba continues to meet vaccination targets set forth by provincial public health officers, we can expect life to slowly and very cautiously return to a new normal.  We've put together some key services and questions to consider when implementing a reopening cleaning program.
Has your business been closed for any period of time?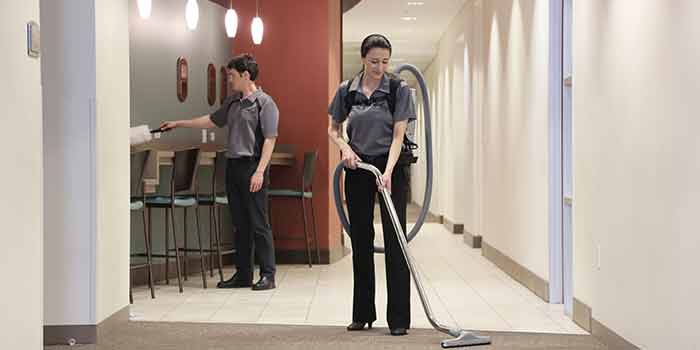 If it has been a while since anyone has been in your restaurant, office or retail space, you are going to need to start with a deep clean.   Deep cleaning services can be limited to one specific type of service, or you can request a package of services that may include:
Floor stripping and waxing
Carpet and upholstery steam cleaning
Washroom deep cleaning
Interior window washing
Do you have a disinfection cleaning program?
During the last 18 months businesses have had to work with their cleaning partner to include disinfection services with their regular cleaning program.  Many business owners are wondering if they will need to continue with these services.  The answer is yes, for the time being in order to continue to prevent the spread of the virus.  As you begin to welcome employees and customers back to your business, disinfection services are important as they target those high touch surfaces like door handles and light switches.
It's important that you are using disinfecting and sanitizing products that are Health Canada Registered and Broad Spectrum Virucidal.
Consider a Custom Cleaning Schedule
Your commercial cleaning service provider should be able and willing to work with you to develop a customized cleaning schedule that works within your budget while still meeting your needs.  The types and frequencies of services you need depend on:
The type of business you operate
The size of your facility
The number of employees and visitors entering
With the introduction of health and safety guidelines geared toward preventing the spread of COVID-19, prioritizing cleaning services for your facility has become equally as confusing as it has imperative. Choosing a cleaning partner who understands the guidelines and is willing to work with you to meet your needs is imperative.
Trust your commercial cleaning needs to the King of Clean – Jani-King proudly services over 500 organizations across Manitoba in all business sectors. For inquiries or media opportunities, please call Bill at 204-989-5925 or Contact us through our website.