Jani-King of Manitoba is joining forces with the Government of Manitoba to quickly and safely vaccinate Manitoba residents.
Image Source: Jani-King of Manitoba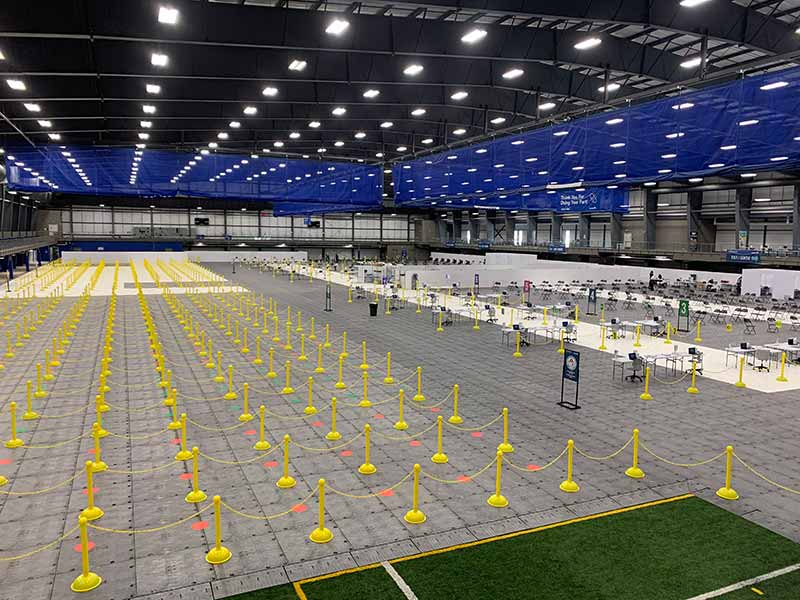 The Project
Jani-King of Manitoba has spent much of the last year helping businesses operate safely by providing custom commercial cleaning services. So when the Government of Manitoba asked for a professional janitorial service to be a part of the new Supersite Vaccination location in Winnipeg, Jani-King knew that they were the right team to support this initiative.
Supersites are unique as they are a temporary but dedicated space for vaccinating the population. Unlike venues such as pharmacies, Supersites operate on a larger scale, solely providing vaccinations in order to efficiently administer the shots to a large percentage of the population.
But with such a large number of people attending such a site, and the risk of contacts and spread, how do you create and maintain a safe environment?
The Challenge
The new Supersite located in the Winnipeg Soccer Federation's north facility will deliver over 4,000 doses a day as shared by CBC News. With such a large number of people coming through a single facility, it was essential to strategically map out how things would operate, including the cleaning aspect. 
"The size and scope of the project is unlike anything we've been a part of previously," states Bill Cole, President and Regional Director of Jani-King Manitoba. "But I knew that with so many amazing team members and proven processes, we'd be able to rise to the challenge."
Through partnership discussions and site tours, Jani-King of Manitoba defined a highly specialized approach to disinfecting the facility both during operating hours and after hours.
The full service disinfection and cleaning program includes: 
13 porters dedicated to vaccine floor site; active at all times during operation

2 porters servicing the staff entrance and change room

2 entrance porters charged to constantly disinfect public entrance area and high touch points

1 upper-level porter to clear and disinfect staff area and washrooms

2 floaters; staff relief, urgent clean ups, garbages, restock, etc.

Full evening facility clean once Supersite closes for the day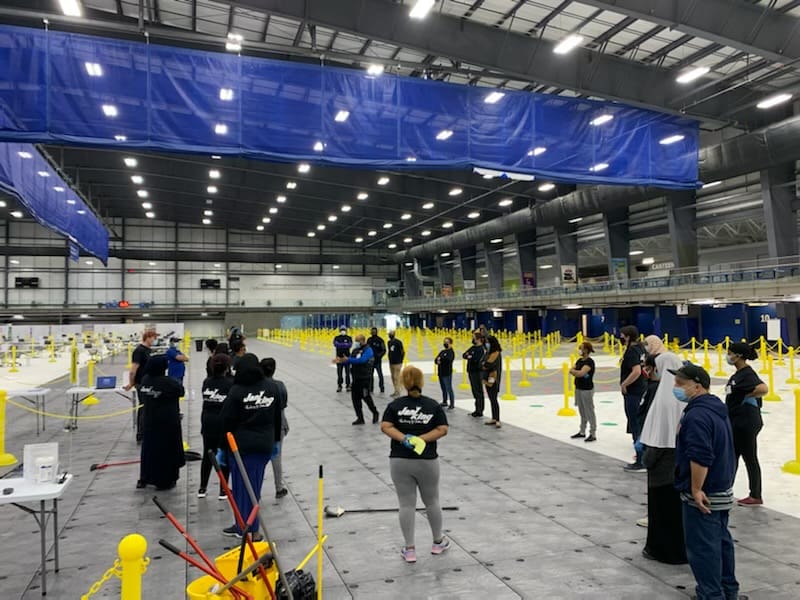 The Outcome
Jani-King has coordinated staff and resources from across their franchisee program to be able to be a part of this significant project. "With over 90 Franchisees and in excess of 300 cleaners, we are well positioned to handle all sizes of cleaning requirements," shares Cole.
Multiple site visits were required to ensure that the team and systems were organized and set up for success. Jani-King worked with government and health officials to understand what standard of care was required, how the public would access the site and be served, as well as introduced to any emergency situations and protocols.
Cole could not be more proud of or excited for his team. "We're ready! We recognize the significance of the program and how it will affect the future of Manitobans. We are grateful to be part of the solution – we always want to be part of the solution."
Trust your commercial cleaning needs to the King of Clean – Jani-King proudly services over 500 organizations across Manitoba in all business sectors. For inquiries or media opportunities, please call Bill at 204-989-5925 or Contact us through our website.