Hailu Belew immigrated to Canada in 2002 to create opportunities for his family.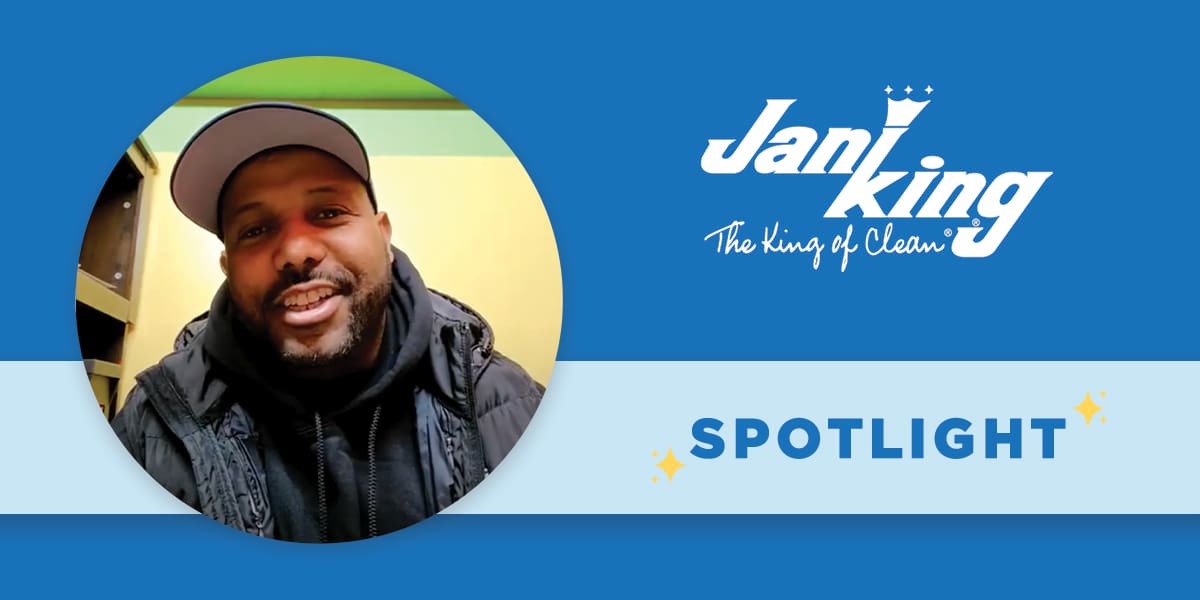 We have heard the phrase, 'the apple doesn't fall too far from the tree' – franchise owner Hailu Belew has thrived because of it. Hailu's father always had a strong work ethic and business acumen, which drove Hailu to Canada in October 2002 to grow roots for his family.
The Seed is Planted
It all started with a restaurant when Hailu and his family settled in Manitoba from Ethiopia. Sadly, the hospitality industry was not the right bed for Hailu, which prompted the switch to owning a little piece of the commercial cleaning kingdom with Jani-King. His knowledge of restaurants propelled him to become an expert with specialized cleaning practices.
Hailu states, "I am specialized in restaurant cleaning, but I clean everything. My team performs disinfectant fogging, sanitization services, and everything in-between, like carpet cleaning; you name it, and my team can take care of it."
During the pandemic, Hailu employed a 67 person team for his commercial cleaning franchises in Manitoba to provide janitorial cleaning services for the COVID supersites. The career seed germinated and has started taking root for Hailu within Jani-King.
The Seed has Sprouted
All for one and one for all — that is the Jani-King way. Our core values stretch beyond our team and franchise owners but outward to our clients. Leading janitorial services – globally, for over 50 years – we have perfected our systems to facilitate effective communication between our teams and clients.
Hailu expresses, "They're just like a family, it's not just like a business. Everybody supports each other. There are many interesting people you meet [clients], and as long as you meet their expectations, they are there to support you. This is what I love about Jani-King."
The Jani-King commercial cleaning program is designed and perfected to ensure that every customer receives consistent, quality service. We are ready to take care of all of your cleaning needs. From regularly scheduled maintenance cleaning to big one-time jobs, emergency service cleaning to washroom supply delivery. Our job is to take the stress, hassle, and worry out of the cleanliness of your facility.
Our core values help Hailu beam with pride. "When I get more contracts, I create more jobs for my employees, and it makes me feel good to know that you are the person who can help someone else."
The seed has sprouted, and Hailu can provide more for his Jani-King family.
The Flower Blooms
Hailu uses the strong values and business sense that he learned from his father and can now bring them to the forefront of his business. Being a leader goes beyond management and is deepened by your commitment to your business and empowering your staff. Hailu says, "You're leading your people the right way — your staff and your clientele. You have to take it seriously. I don't just see myself as a boss or as a franchise owner because I work with my staff at ground level so that I can provide quality control and support."
As a result of the support system, Hailu has found great success both inside the business and outside. Having his own business has provided a lot of freedom to spend time with his family. He explains, "Jani-King is a great franchise — you know they're just like family, it's not just business."
Now, Hailu's seed is in full bloom, and he has found his roots within Jani-King and can support his immediate family, alongside his Jani-King family.
If you are looking for tailored janitorial services for your business or office building, get your free quote today, and feel the Jani-King difference.