And let your commercial cleaning company help you with that.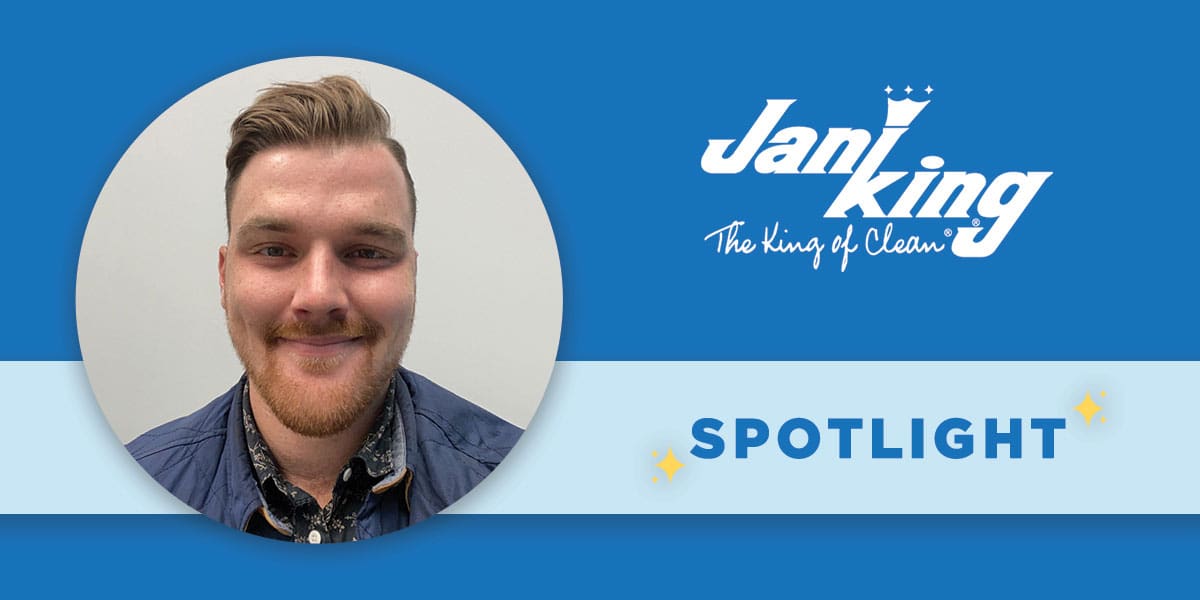 It's all about first impressions when a customer walks through the door of your business.  The commercial cleaner you choose to use can help immensely and Jani-King Account Executive, Marcus Hudon, understands this completely.
"It doesn't matter what you're selling or what your business is," says Marcus. "People look at cleanliness first and foremost. When you walk into someone's house, you can tell immediately if they are messy people. With a business, you'll notice immediately if the toilet or front steps are dirty – it's all about building those first impressions."
Marcus joined Jani-King in Winnipeg five months ago and loves his role of tracking down new business, onboarding leads for the company, and getting quotes out.
"It's been an awesome start and I'm really happy with where I'm at," he smiles. "It's all about the way the company operates, giving me the full opportunity to be self-motivated and self-driven while at the same time giving me support when I need it. I'm able to prove myself and show what I'm made of in terms of getting out there and making some sales."
It's not always easy. It's tough in a competitive market, but Marcus is up for the challenge of selling professional janitorial services.
"The biggest challenges are definitely the cold calls and the door knocking.  You're not only selling the service, but you're also selling yourself," he explains. "But we've been very busy with inbound inquiries, so I've been able to reach out to people who have already heard about our services."
And he credits his previous work in the promotional merchandising industry with providing him with some solid experience and skills.
"I definitely got some good sales experience under my belt as that was definitely a cold-calling role. I got my feet wet and got used to it because it's very uncomfortable in the beginning," he chuckles.
Jani-King has been meeting the cleaning needs of businesses in Manitoba for over 25 years with 99 local franchises serving more than 500 clients. It is the official cleaning partner of the Winnipeg Goldeyes Baseball Club and Shaw Park®, and Marcus believes it's the individualized approach that makes all the difference with Jani-King.
"The fact that we operate on a franchise base really gives us an advantage over some of our competition because our franchisees own their own cleaning company," he says. "It's their livelihood, it's their company name. They're not just working for an hourly wage at another company; it's their own business with support from us."
He laughs as he tells a story of how close of a family the company really is:
"Turns out one of my best friend's Mom is a franchisee, I had no idea she was connected to Jani-King. Typical Winnipeg, one degree of separation between everyone!"
Interested in taking advantage of Jani-King's stellar reputation and obtaining a cleaning quote to get your business sparkling clean?  Whether it's an office, restaurant or daycare, click here for more information.
Marcus is happy to chat with you – so give him and Jani-King a try!
"I feel I am able to connect with people quickly and get to know them," says Marcus. "That helps me out with my role, and the fact that the team is so great here at Jani-King makes my job a lot smoother."
For more information or a cleaning quote from Jani King, click here and get your commercial space – and its floors – in the shiniest condition they have ever known!