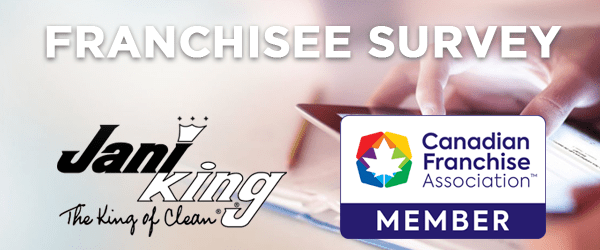 Earlier this year, Jani-King Canada participated in the Canadian Franchise Association's Awards of Excellence in Franchising program. This program, sponsored by the Canadian Franchise Association (CFA) and administered by the Portage Group, issued surveys to over 70 CFA-member brands.
The surveys, completed by franchisees, measured their satisfaction with franchise relations, leadership, training, and communications. Franchisees were asked to rate their franchisor on these topics and provide feedback through open-ended questions about what they liked and disliked about the system. The ratings were then used to establish benchmarks for the award.
As a direct result of the largely positive responses given by the franchisees, Jani-King Canada was awarded the 2019 Franchisees' Choice Designation. In fact, the survey showed that nearly 70% of franchisees would recommend the Jani-King system. This honour shows that the brand received solid endorsement and ratings from its franchisees. The exposure from this designation will enhance Jani-King's profile and increase awareness of the franchise system's success with franchisee relations.
Celebrating 50 years in business, the Jani-King system has mastered providing top-level service to franchisees. Most of this support comes from local regional offices. The regional offices offer support to the franchisees with the following items:
Operational training including online learning tools and hands-on experience
Marketing support
National supplier relationships
Technical and administrative support
Timely industry and technology trends
These resources help make Jani-King a leader in customer service, and gives franchisees access to resources they may not be able to get on their own. Jani-King believes strongly in developing an organization that will encourage all people to prosper and grow to their full potential. This award emphasizes that Jani-King's mission is being fulfilled.
The feedback from the survey will provide valuable insights moving forward. All of the comments and suggestions that franchisees made will be taken into consideration, and changes may be implemented to reflect the wants and needs of the franchisees to ensure that strong relationships are built and maintained.
If you want to learn more about this exciting achievement you can check out the official news release.
Thank you all for participating in this survey, and congratulations to each of you on this achievement!