The Jani-King of Nova Scotia team would like to congratulate three deserving students on their scholarship awards, Ryan Symonds, Jamila Natividad, and Abby Turnbull.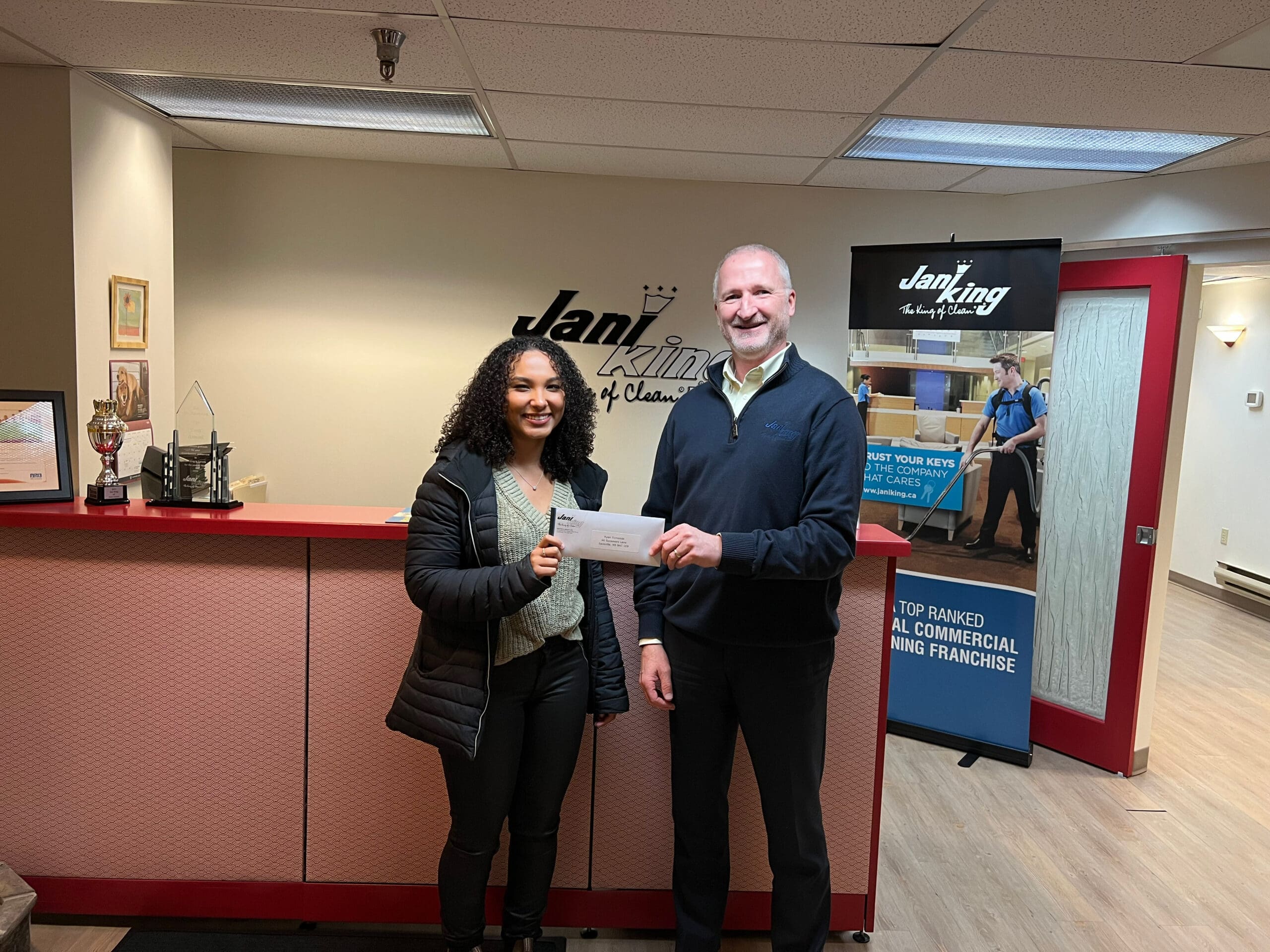 Ryan, daughter of Franchise Owner Kim Westhaver, is enrolled in the Bachelor of Science in Nursing Program at Dalhousie University. After graduation, Ryan plans to work as a Registered Nurse.
"Jani-King has been part of my life since I was 4 years old when my mom bought a franchise and made it our family business. I've worked in the franchise for several years, and my family has always been involved in this organization," shares Ryan. "Nursing school is not only difficult, but expensive. My program doesn't allow me to take summers off to work full-time, so the extra money towards my tuition will make a big difference in allowing me to return to class next fall."
Jamila, daughter of Franchise Owners Paul and Joyce Natividad, is studying Science at Dalhousie University. When she graduates, Jamila hopes to become a Clinical Psychologist.
"All of my life I have strived for the greatest accomplishments as well as taking on opportunities that have overall bettered me," says Jamila. "I make little things into learning opportunities and put my best effort into everything I do. This scholarship will help me a lot as I try my absolute hardest at Dalhousie. I am honoured and eternally grateful for the Jani-King scholarship opportunity."
Abby is the daughter of Gerry Turnbull, General Manager of Jani-King of Nova Scotia. She is currently enrolled in the Bachelor of Science-Diploma in Engineering Program at Saint Mary's University. Upon graduation, Abby plans to be an Engineer.
"Abby worked for us one summer in the Regional Office as our customer service lead," shares Ed McNamara, Regional Director of Jani-King of Nova Scotia. "Abby always displayed a high level of integrity, responsibility, and ambition and always did a great job interacting and supporting our customers. She is a committed, hard-working student who will become an exceptional engineer."
"I want to succeed in my profession and complete my studies with no regrets," says Abby. "Receiving this scholarship will help me concentrate on my academics and not worry about the cost of university. I want to encourage more females to not be scared or discouraged to go into a field that is male dominated. If I can succeed and complete my degree with confidence, anyone can. As time goes on, work forces won't be dominated by one group of individuals, and I hope that can start with my generation."
Congratulations Ryan, Jamila, and Abby! From everyone at Jani-King, we wish you all the best in your future endeavours.